JOYCE OSEI OWUSU LARBIE
BOARD SECRETARY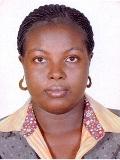 Joyce Larbie (Mrs.) started her career with Shion Enterprise as sales personnel. Her entrepreneurial potentials encouraged her to learn a lot from the sales job. With the experience gathered from a sales person, she moved to Mevajulie Enterprise to become a Sales Manager and moved to Nicjoyemma Enterprises with the same position.

Her quest to learn and gain experience in all industries encouraged her to accept an offer from Provident Insurance Co. Ltd (PLC) as a Marketing Executive where she gained practical experience working on the field. This sharpened her skills in interpersonal relationship, customer relationship management, negotiation, fund management and conflict resolution.

She also acquired knowledge in rentals and leasing of heavy equipment to mining companies especially in Tarkwah and Obuasi when she became a quasi-contractor and dealer in natural resources. Joyce had a first taste of micro-finance industry when she became associated with Ghana Financial Services Limited where she learnt a lot about the industry.
She developed greater interest in the industry and with her knowledge in fund management and customer relationship management; she entered the industry by starting Jorbies Micro-finance Limited with only two staff.

With support from the Executive Director, Joyce has helped raised Jorbies to the level it finds itself and she is now the Secretary to the Board of the company. She holds Bachelor's Degree, Management in Computing from Regent University of Science and Technology and she is currently pursuing MBA at University of Ghana Business School.